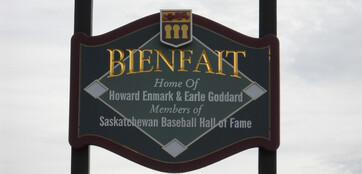 History of Bienfait
The Town of Bienfait has a population of 780 and is located approximately 12 km east of Estevan on Hwy 18. Coal mining has been a part of the community since its beginnings, and today many of Bienfait's residents still work in the area's coal mining operations. Many others, however, now work in the city of Estevan; for these people, Bienfait is in many ways a bedroom community. Agriculture, the oil and gas industry, and power generation contribute to a diversified economy and provide further employment. SaskPower's Shand Power Station and Shand Greenhouse are located southwest of the town.

People began arriving in the Bienfait area in the 1890s, and the first viable coal mine was established a few kilometres south at Roche Percee in 1891. The CPR came through from Brandon to Estevan in 1892 and the Soo Line was running through Estevan in 1893, providing easy access to the area for many settlers coming from the United States, who were substantially of European origins. Although the Palliser Expedition noted coal along the Souris River in 1857, quantities had been thought too insubstantial to warrant development. It was decades before the extent of the coal beds was realized, and the first lignite mined in the area was by individual entrepreneurs and small-time operators. In the early 1900s, the CPR started Bienfait Mines Ltd., and soon more mines were opened in the area. Many farmers used coal-mining income to help them establish their farms.

The community had a second rail line by 1911 as the Canadian Northern Railway extended tracks south-westward from Carlyle, and Bienfait, one of a number of coal mining communities that had sprung up in the area, was incorporated as a village April 16, 1912. In 1922, the only murder ever associated with Saskatchewan's illicit liquor trade with the United States took place in Bienfait. The population of the community grew rapidly in the early 1900s as people of many diverse nationalities flocked to the area, from 245 in 1916 to well over 500 in 1931. That same year, Bienfait coal miners joined the Mine Worker's Union of Canada and went on strike to try to force mine owners to recognize their union and to restore wages that had been cut. When the owners proved intransigent, miners held a protest march on September 29 in Estevan to gain community support for their cause. Estevan's mayor called on the RCMP to help the local police quash the demonstration, and in the ensuing pandemonium three miners were killed and many were injured. A contentious memorial at the men's gravesite in Bienfait attributes their deaths to murder by the RCMP.
The Depression years hit the coal mining industry hard, but another development, which was to significantly affect miners, was the beginning of surface "strip" mining by electric shovels. Originally, all mining operations had been underground, but by 1956 a six-decade era of underground coal mining had come to an end – and with it a lifestyle and a good many jobs. Today, some of the world's largest mining equipment is operated in the Bienfait area, and coal mined in the district, as well as at Coronach, is used to generate 75 per cent of Saskatchewan's power.

Bienfait attained town status March 01,1957 with a population of just over 800. The community today has a small core of essential businesses and services. Bienfait's school provides K-8 education to approximately 130 students, while grades 9 to 12 are bussed to the city of Estevan. Bienfait has skating and curling rinks, a newly constructed swimming pool and play park , as well as baseball diamonds and a soccer field. Woodlawn Regional Park south of Estevan has an 18-hole golf course and the renowned outdoor Souris Valley Theatre. The Boundary Dam and Rafferty reservoirs provide excellent opportunities for boating and fishing. The coal mining industry and its role in the development of Bienfait has been commemorated in a museum, formerly the CPR station built in 1907. A vintage steam locomotive used by the Manitoba and Saskatchewan Coal Company is also displayed at the north end of the town's main street.

Used with Permission from: David McLennan, "Our Towns: Saskatchewan Communities from Abbey to Zenon Par